NFL footballplayer told mother about concussion worries
The Guardian
Associated press Ohio
November 29,2014
Defensive tackle Kosta Karageorge missed practice on Wednesday and Thursday and has not been heard from since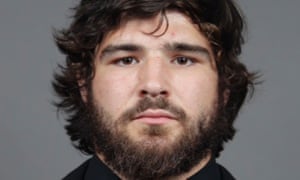 The mother of a missing Ohio State football player has told police he texted her about his prior concussions the morning he disappeared.
A missing-person report filed with Columbus police Wednesday evening says defensive tackle Kosta Karageorge told his mother he was sorry if he was an embarrassment but concussions had his head messed up.
His mother told police the text was sent at about 1.30am. Wednesday. The 6ft 5in senior missed practice Wednesday and Thursday and has not been heard from.
His mother, Susan Karageorge, told police he has had several concussions and a few spells of being extremely confused.
The team's physician said Friday he's confident in the policies in which athletes are returned to play after injury or illness